Post by Amaris on Mar 13, 2010 2:13:59 GMT
www.guardian.co.uk/science/2010/mar/12/simon-singh-goodbye-libel-reform
Friday 12 March 2010 12.28 GMT
Simon Singh: This is goodbye
Being sued for libel is not only ruinously expensive, writes Simon Singh, it takes over your whole life. Which is why this will be his last column
Science Writer Simon Singh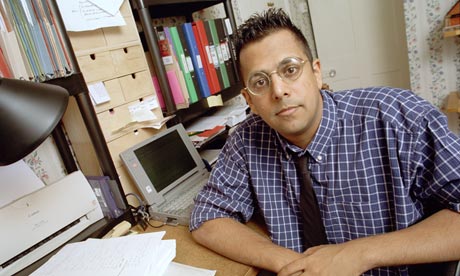 All other work has been put on hold while Simon Singh fights the British Chiropractic Association in the courts and campaigns for libel reform. Photograph: Corbis
Almost a year after writing my first column for this site, I would like to welcome you to my final article.
At first I was able to deliver my monthly column on time, but my submissions have become increasingly delayed, and this is my first since November. The problem is that I have spent the past two years being sued for libel, which has taken up huge amounts of time. And now all my remaining spare time is being devoted to campaigning for libel reform.
The crippling and prohibitive financial cost of defending a libel case is often highlighted, but the equally terrible cost in terms of time and stress is rarely mentioned.
I recently discussed this with Dr Peter Wilmshurst, the eminent cardiologist who is being sued for libel for commenting on the efficacy of a new heart device. Peter was put under immense stress when he received legal papers on Friday 21 December 2007 at 5.09pm, which was nine minutes after most solicitors closed for their Christmas holiday. It was not until the new year that Peter was able to get any legal advice, so it was an anxious Christmas.
Perhaps it was just as well that Peter was not aware of the full implications of what lay ahead of him, namely at least two years of anxiety, misery and the threat of bankruptcy. Almost all his spare time has been spent on the libel case. When finalising his defence, he took two weeks of annual leave to work on the documents. Moreover, dealing with ongoing legal issues has prevented him from carrying out his usual medical research, and a number of publications have been put on hold.
After chatting to Peter, I decided to count up how much time I had spent defending the article published in the Guardian in April 2008 that led to the British Chiropractic Association suing me for libel. I reckon I have spent 44 solid weeks on the libel action spread across two years.
I am in the very fortunate position of having no employees, being a freelancer, having financial resources and having a very supportive wife. In any other circumstance, I cannot imagine fighting a libel action because of the enormous sacrifices involved.
I should have started writing a new book a year ago, but as yet I cannot even develop proposals and talk to publishers because I have no idea how the next year or so will develop.
The case could easily continue for another two years. If I win then I will not recover all of my legal costs, but (worse still) I will never recover the time I have dedicated to poring over legal documents.
Before saying goodbye, I will urge you once more to sign up to the campaign for libel reform. If you remain unconvinced about the need for libel reform, try visiting the National Enquirer website. If you live in the UK then you will find a blank page except for the words "Page unavailable/under construction".
The reason is that the National Enquirer is so scared of English libel law that it no longer sells magazines in the UK or makes it web content available here.
You might feel that the unavailability of the National Enquirer is not enough to justify changing English law. However, more serious than the National Enquirer's position is the fear that other American publications will follow suit and that some key American magazines, newspapers and websites will be available everywhere in the world except in Britain.
You might feel that I am being alarmist, but major US newspapers, such as the Boston Globe and The New York Times, sent a memo last year to the House of Commons select committee on media, libel and privacy. They warned that they are considering stopping the sale of their publications in Britain due to the threat of libel. The benefits of selling newspapers here in terms of profit are outweighed by the potential losses in libel cases.
If publishers stopped selling hard copies in Britain, they would almost certainly also block their online content, because otherwise the threat of libel would remain.
Thereafter, it would be sensible for everything from academic journals to blogs to follow suit. Very quickly Britain could become an isolated society. In terms of free speech and access to information, our nation would become the European equivalent of China.
That's just one of the reasons you need to sign the petition for libel reform.